I remember the days, prior to Jim and I owning our own hot tub, when we would get so excited to stay in a hotel or at a resort and enjoy a swim in the pool and a soak in the hot tub.  There were literally times when we would have a weekend to ourselves and get a hotel reservation just 20 minutes away from our home JUST to take advantage of the hot tub.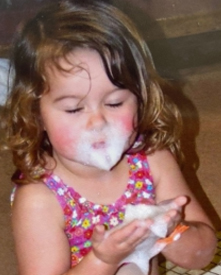 Let's not forget the times when our kids were younger, and we would stay at a hotel and the kids spent their hot tub time pretending to be Santa Claus putting on as much foaming bubbles on their faces as they could gather with their hands just to play the part of the guy in the big red suit. I would even take pictures as I thought it was so cute and funny!  Pictured here is my daughter Kensey who was three years old at the time.  She's now 15 and I'm certain she will love me even more now for posting this on our blog but isn't she the cutest little Santa Claus?!  I can still hear her yelling, "HO, HO, HO!" repeatedly while adding more and more hot tub bubbles to her face!
I used to think that the more foaming bubbles there were in a hot tub, the more fun we will have!  Little did I realize that those bubbles are a result of contamination in the water.  Lotions, oils, soaps, dead skin cells, fecal matter, natural detriments such as pollen, leaves, grasses and insects all can create issues which, if left untreated, will result in bio-contamination.  To think that this is what Kensey was putting on her face in this picture makes me cringe just a bit.
Over the last few years, we have been hearing more and more about Legionnaires' Disease caused from exposure of this deadly bacteria, bio-film, in hot tubs and swimming pools.  I just read an article about this in the "Service Industry News" online dated August 15, 2021, where a woman was hospitalized, and a man died following exposure to deadly bacteria at a hotel hot tub that's just about four hours from where we live.  This was yet another reminder even for me who works in this industry that it is so important to clean and sanitize our hot tubs, pools, jetted tubs, etc. properly.  Here is the article for reference: https://serviceindustrynews-hi.newsmemory.com?selDate=20210815&goTo=01&artid=0
One thing I want to stress is that I am in no way trying to scare people from soaking in a resort or hotel hot tub. I am also not stating that if you are thinking of buying a hot tub that you should put your money elsewhere. If you already have a hot tub, please don't go and put it on Facebook Marketplace to sell as I am by no means insinuating that people should not own hot tubs for fear of getting sick. What I am saying is that it is so important to clean and sanitize your spa properly. Know your tub and be diligent about sanitizing, purging and keeping it clean all the time!  Remember, just because your tub looks clean, doesn't mean it is clean.  Bio-film loves to manifest in the inner plumbing of tubs. Use AHH-SOME to help rid the biofilm within the plumbing of your hot tub, swimming pool, jetted tub, etc.  Don't wait for the worst to happen where someone gets sick by simply taking a soak in an unhealthy hot tub.  I may go a step further and say that it's important to recognize the dangers of going into a tub that you don't have control over regarding the sanitation and maintenance of the tub.  That's not to say one shouldn't enjoy his/her time at a hotel or resort tub but do your research. Know the results of what can happen if you soak in a tub that is not sanitized properly. Be aware of your surroundings when it comes to what tub you might sit in.  If it smells funny, if there are a lot of foaming bubbles surfacing the tub, if the water is cloudy or greenish in tint, beware as these are all red flags to an unhealthy pool or hot tub.  Know the symptoms of Legionnaires' Disease such as fever, fatigue, headache, muscle aches, chills, shortness of breath, loss of appetite, and coughing.  If you should feel sick after sitting in a tub, see a doctor.
On a scale of 1 – 10 on how much I love our hot tub, I would shout out a big and bold ELEVEN!! I love our hot tub and I encourage people to get one! I love everything about ours and I hope I can enjoy soaking in a hot tub for years and years to come.  Don't let these stories and experiences scare you away from enjoying the joys in life!  Instead, use this information to educate yourself on what must be used to properly sanitize and maintain your tub. Treat yourself to an early Christmas gift from the jolly old' Saint Nick and buy Ahh-some!  I promise it will be the best gift from Santa your hot tub, swimming pool or jetted tub has ever received!
Until next time,
Amy Parker