Aqua Clarity Hot Tub Program
The Magic of Science in every bottle
The Aqua Clarity Hot Tub program serves as a dual-purpose product for your hot tub.  Once the concentrate is mixed with water, it is to be used to purge your hot tub AND it also serves as your weekly maintenance program for your hot tub.  Aqua Clarity contains 128 ounces of "magic" once mixed with water. This program is designed to be a low-plastic, just-add-water concept where we supply the concentrate, you supply the container and do the mixing.  It is very important to note that you must first mix the 6 oz. of Aqua Clarity Concentrate with water before using this product in your hot tub. Do not pour the 6 oz. directly into your hot tub.
By using Aqua Clarity (AC), your hot tub maintenance protocol will become the easiest you've ever thought possible. If your hot tub plumbing has never been bio-cleaned using an effective "purge" or a "purge" has not been performed on a regular basis, we recommend that this be done using our Aqua Clarity program. Aqua Clarity is the product you need to complete an effective "purge." Use 3 oz. of the mixed Aqua Clarity per every 100 gallons for your "purge." Once the hot tub has been purged, refilled and your water balance chemistry is stabilized, your tub is now ready to begin using the Aqua Clarity as a Weekly Maintenance program. Simply add 1 ounce of the ready-made Aqua Clarity product per 200 gallons of water capacity WEEKLY to your hot tub.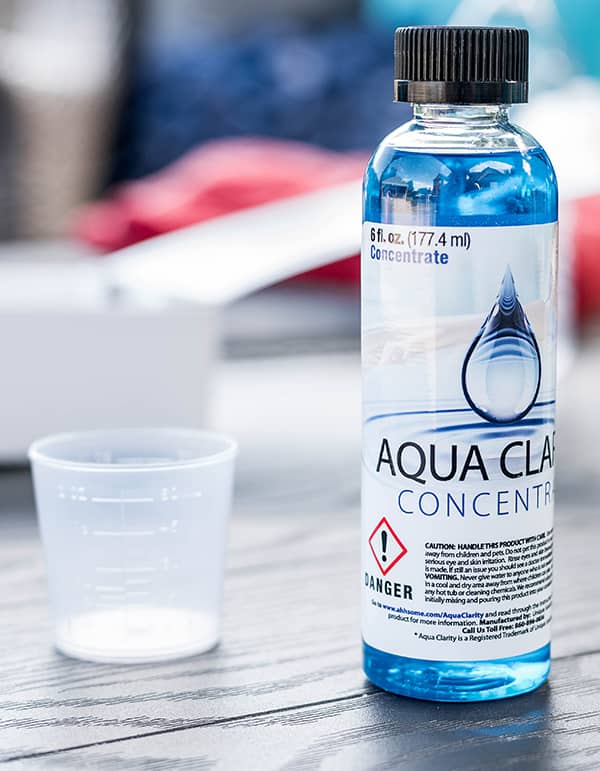 Here is a laundry list of the benefits of using Aqua Clarity:
Talk about Savings!
You will use roughly 24 ounces annually to do two hot tub purges. That leaves 104 ounces. If you use 2 ounces per week as a maintenance dose, 52 weeks x 2 oz, you have enough product for the entire YEAR for a 400-gallon hot tub. If your tub is less than 400 gallons, you will be using less than 2 oz per week. If your tub is more than 400 gallons, you will be using more than 2 oz. per week.
For example, if your hot tub holds 600 gallons of water, you will use 3 oz. of AC weekly.  If your hot tub is 200 gallons, you will use only 1 oz. of AC weekly.  It is important to have an idea of how many gallons are in your tub prior to starting the Aqua Clarity program.